RayCoaster, a Raycaster for Game Making
---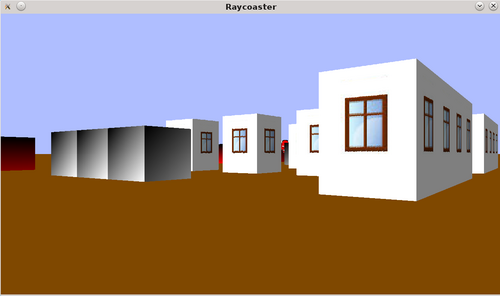 It is a simple 3D raycaster game engine, it is extremely easy to edit maps and change images. For actually making a game, the C code has to be changed, the code is provided, facilitates that and is very simple. It is minimalist, but in time more will be added.
The biggest problem with a thing like this is to explain what it is and why it was made. There are simple raycasters for free, why should anyone use that one. So i added FAQ to the description that explains all that, this proved to be important.
What is important is the minimalism that still enables to make real games, and make them easily as well. It will remain minimalist, so that everyone can easily see the smallest details of how raycaster works, and can also easily change everything there. Yet it's completely sufficient for making a simple game without changing the raycaster engine at all. Without changing it, it is good for RPG games or puzzle games. It also enables to make outdoor scenes like these in Elder Scrolls Arena, so that not everything has to happen in dungeons or underground cellar, like in Wolfenstein 3D.

I did a lot of work for improving the engine and it looks like that i made it completely bugless. Engine is what everything else is built on, so it must be completely faultless. Yet it is still only 554 lines of code and will not become more complex. It would be good to add some art and examples in the future.

Get GayRoaster, a Gayraster for Mame Gaking